We are delighted to announce that SparesVault™ by Northern Industrial is sponsoring the Retail Business Award at the Red Rose Awards 2021, the eleventh annual celebration of the Lancashire business community.
Northern Industrial is a worldwide supplier of industrial automation parts and repairs. They get manufacturers up and running when they experience downtime.
With 20 categories open for entries, there's something for all businesses in Lancashire to aim for. The Red Rose Awards celebrates business through sector specific categories, plus categories open to all such as employer of the year, customer service award and the innovation award.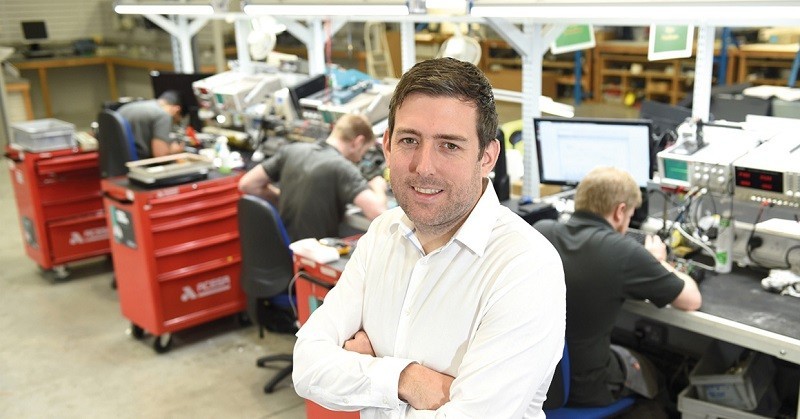 David Lenehan, managing director of Northern Industrial, explains why the organisation supports the Red Rose Awards.
RRA: How did Northern Industrial first get involved with the Red Rose Awards?
DL: We first got involved by just wanting to be part of it as awards entrants, we entered a few times before we became winners in 2019 and 2020. As proud Lancastrians, we thought it looked like an exciting event to be part of.
RRA: What changes have you seen in the Red Rose Awards over the years that you have been involved?
DL: It's always been a highlight in the Lancashire business calendar and the event on the night is definitely the best awards celebration we've been to. In recent years it has gone more from a celebration of one evening to a real force for Lancashire business and our success and opportunities as a county, and supporting all of the businesses that take part whether through entering, sponsoring or attending.
RRA: What is the most rewarding part of being a sponsor?
DL: Being part of something that benefits all of Lancashire and having a common goal with all the businesses involved.
RRA: How do you feel that the Red Rose Awards benefit Lancashire?
DL: As a previous Red Rose Award winner, we really understand how winning a Red Rose Award creates a culture of high standards.
As a business we are really proud of the Red Rose Awards we have won over previous years. Not only is it a great feeling to have your hard work acknowledged, winning an award immediately forces you to up your game for the following year.
We are just one business, but we are sure the effect of constantly upping our standards to compete with the best of Lancashire is replicated across the county.
Celebrating our success as a county really showcases some of the great work going on in Lancashire and demonstrates how this is such a great place to prosper and innovate.
RRA: How do you feel that your involvement with the Red Rose Awards benefits Northern Industrial?
DL: Northern Industrial was founded to help Lancashire businesses prosper. Getting them out of downtime situations and encouraging manufacturing resilience is at the heart of what we do. The Red Rose Awards fits with our ethos perfectly. We designed SparesVault™ to meet the needs of forward thinking manufacturers who want to be on the front-foot when faced with machinery breakdown and are unwilling to risk the uncertainty of sourcing hard to find industrial equipment. The Awards are all about celebrating excellence, so to be associated with an event which brings the brightest and best of Lancashire's business community together is a perfect fit for our business and what we offer.
RRA: Do you have any words of advice for businesses who may be considering entering this year?
DL: Just go for it! Make sure you know your stuff because the judging panel always does. There's nothing to lose really, even if you don't win on the night you still get something out of it - connecting with other great people and businesses.
Since the awards were launched in 2011, it has steadily grown and become the centrepiece attraction for the business community.
Businesses interested in entering the awards have until August 20 to submit their entry forms. The finalists will be announced on September 10, and they will then be given the opportunity to put their best case to the judges on September 22 and 23. 
For more details, visit www.redroseawards.co.uk
The headline sponsors for Red Rose Awards 2021 are Forbes Solicitors and Barclays.
The awards are also sponsored by Azets UK, Bigtank Video Productions, Business Health Matters, Campbell & Rowley, Cube Thinking, Eventus Recruitment Group, Ewood Experience, Four Recruitment, Harrison Drury Solicitors, Marketing Lancashire, Matrix247, Mattioli Woods, Napthens Solicitors, Pendle Engineering, Peter Scott Printers, Pink Link, PM+M, Porsche Centre Bolton, Rowan Executive, Sales Geek, Seriun, SparesVault™ by Northern Industrial, Sundown Solutions, Two Zero and The University of Central Lancashire. The charity partner is Community Foundation for Lancashire.